Lisa Smith
REFERRAL AGENT
831-688-3880
831-535-8254
What I'm About
My dream is to infuse art within the fabric of Real Estate
. I'm inspired by new ideas & new ways of getting the job done not only with day to day transactions, but beyond to the systems that interact and play amid the woven Real Estate Tapestry. What if things were done differently? What modes, methods and systems can use adjustments and renovation to make the dynamics of real estate better? If you are looking for an average real estate agent that gets things done in the same manner year after year... I'm not her. I'm smart, highly creative, and a solution based person who uses my vast life experience and education to make things happen. My dream is to infuse art within the fabric of real estate utilizing creativity and smarts to get the job done.
Growing up in Silicon Valley
I was raised in Silicon Valley in Sunnyvale & Saratoga on land that was once a cherry orchard. My father was an entrepreneur who stretched the possible and made the impossible happen through his knowledge of programming & design skills. He possessed the ability to entice the two to create complex systems which appear simple and user friendly but really took much thought and work to create. My mother was the steady backbone... the one with accounting skills and practicality combined with Midwest farm values. I see a lot of myself in them and how I presently approach Real Estate.
First taste of Real Estate
When I was 7 I had my first taste of Real Estate when my father handed my sister and me tool belts stuffed with nails. Most kids weren't given pointy objects to play with, but it was the early 70's, no seat belt laws or fences around schools. My dad bought 5 lots at an auction in Lake Tahoe one weekend and decided to build cabins in his spare time. This seemed reasonable and normal at the time. And, to keep us engaged we were told to make sure the sheetrock stayed on the walls and we were given the freedom to pound as many nails as we wanted to make sure that happened!
Recent Endeavors
I recently finished a "fixer-upper" home in Seacliff that we bought in 2015. Instead of going with a conservative, normal chandelier for our entryway I wanted something that would make one smile...something that was a 3-Dimensional kinetic piece of art inspired by the work of Dale Chihuly. It took 2 months to design and create with the help from a glass company I found in China & 3 men to install. I still smile thinking about accomplishing something so many told me couldn't be done. 🙂
Aside from working on projects within Santa Cruz County I enjoy traveling. This Sept/Oct I was blessed to be invited on a cruise to Italy, Greece & Israel. In Tel Aviv I met the "Father of Kinetic Art", Yaacov Agam... and was able to tour his new museum prior to its anticipated opening. He also gave our group a private tour of his "home"... the condominium complex he designed using 90 different colors!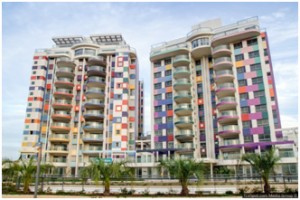 Arriving at Bradfield & Associates
"I think a hero is any person really intent On making this a better place for all people" Maya Angelou
I've been blessed to have many people who have helped me, guided me and mentored me along the way. But, along this journey I've chosen and dared to tread on paths that are less traveled. How do you make this a better place? Where can you work where creativity & expression is encouraged? Bradfield & Associates is more than just a successful Real Estate Company. And what attracts me most is their underlying business philosophy of...
Serving clients with heart
. What a delightful way to do business!